Did We Meet Our Goal For 2011?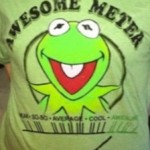 In January, I set our 2011 goal:
Be Awesome!
It's not easy to measure quantitatively, but you can have a gut feel for how you did. We always tried to exceed expectations, go the extra mile, and do the little things that so many hosts just blow off.
Do I think we accomplished our goal? Yes, but I'm biased – I'm on the inside looking out.
One of our clients sent us this certificate (along with a box of goodies). I may forget the goodies, but the certificate will stick with me for a long time. And I think it validates us reaching our goal:
As George Costanza from Seinfeld said after hitting the high note:
Alright that's it for me. Good night everybody.
See you in 2012!
Looking for a web host that understands ecommerce and business hosting?
Check us out today!