Masterclass – Ultimate 3 step process on how to achieve a page speed score of 100/100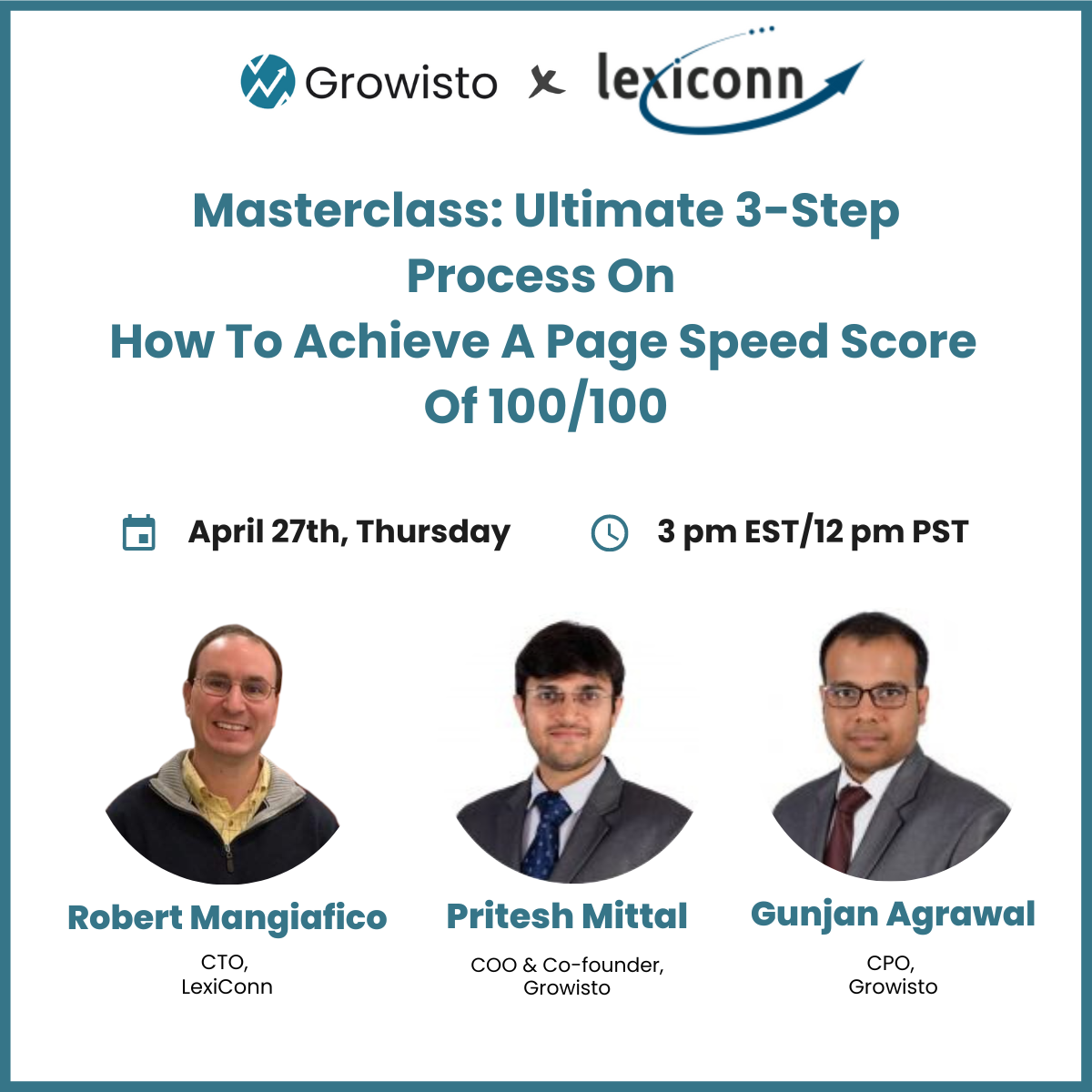 According to Google, around 32% of visitors abandon a page that takes more than three seconds to load. That alone is a huge blow to your potential conversions.
We are organizing an exclusive invite-only masterclass on the "Ultimate 3-Step Process on How to Achieve a Page Speed Score of 100/100" in partnership with Growisto, a Digital Growth company that specializes in technology and marketing services.
Key learnings:
What is Google Page Speed Score and Core Web Vitals? Why do they matter?
What are the different stages that matter in this process? A step-by-step plan of action for page speed score improvement
What is the right approach to increase the page speed of my website?
What is a good score to target? At what stage should I focus on this?
What kind of teams, effort, cost, and time it will take to get results?
How does it depend on my current technology stack? Should I think about upgrading my tech stack?
How to manage the requirements of different teams such as, marketing, branding and others while optimizing core website vitals and page speed score?
How to track progress and improvements? How long does it ideally take to start noticing the improvements?
How can we measure the ROI of the overall efforts and measure the business outcome?
Schedule:
Date:  27 April 2023, Thursday
Time:  3 Pm EST/12pm PST
Where – Zoom (Webinar link will be shared over email on successful registration)
This webinar is an exclusive session for Founders, CXOs, Directors, Head eCommerce Director/VP Technology, CTOs, CPOs, IT managers, eCommerce managers, Tech leads, Product managers, and Engineering leads with first-in-time bookings only.
Save Your Spot Now! 
—– Register Here—-
About the Speakers:
Robert Mangiafico is the CTO of LexiConn, a fully managed hosting provider that specializes in e-commerce hosting with Magento and WooCommerce. He has previously created a platform for email reception and delivery at-sea for US Navy submarines. His expertise lies in web servers, database servers, networking, e-commerce, internet security, ShopSite, and Magento.
Gunjan Agrawal is the Chief Product Officer at Growisto and has 15+ years of experience in technology and product development. He has served as the Director of Products at Oyo Rooms and has successfully built and exited three ventures – Logic roots, Menufry.com, and Career Point Edutech Ltd.
Pritesh Mittal is the COO & Co-founder of Growisto, a Digital Growth company that specializes in technology and marketing services. A second-time entrepreneur, Pritesh in last 8 years has helped 150+ brands increase their digital growth and online sales. He has experience in Tech and Marketing Consulting, Product Marketing, SEO, Digital Marketing, and Conversion Optimization.
Looking for a web host that understands ecommerce and business hosting?
Check us out today!