Top Ecommerce Blog Posts and Articles for July 2011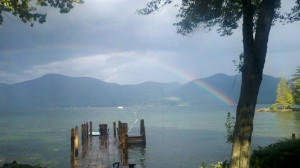 This was the rainbow we saw overlooking Lake George last week. It was a nice vacation, but now it's back to reality.
If you're also back at work, here are a few articles from July I found interesting and helpful to ecommerce merchants…
TOP PICK: Checklist: 9 Ways to Build Trust in Checkout – Get Elastic
Solid, solid tips to make sure your customers are comfortable and feel secure on your site.
Why do consumers abandon online purchases? – Econsultancy
Here's what one survey found.
10 site tweaks to make your customers actually click "buy" – Shop.org Blog
Another article about closing the sale and avoiding the abandoned cart syndrome.
Events – Mine That Data
A reality check for merchants.
Should Your Business Offer A Groupon Deal? – Open Forum from Amex
Thinking about using Groupon? Read this first.
25 SEO Tips You Shouldn't Overlook – Lauren Hills Design
Good recap of SEO things to think about.
Understanding Credit Card Fees, Part 3: Punitive Interchange Rates – Practical Ecommerce
This is why merchant account providers are not well liked.
Is External Linking Good For SEO? – SEOmoz
Linking out can be good for your ranking. Watch the video to find out why.
10 Things CMOs Need To Know About Google+ – Forbes Blog
Pay attention to Google+, it could be big business for small businesses
Looking for a web host that understands ecommerce and business hosting?
Check us out today!