Top Ecommerce Blog Posts and Articles For December 2010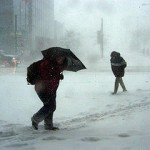 The blizzard of 2010 hit Connecticut quite hard the day after Christmas. Not too much snow, but 60+ mph wind gusts made for quite the white Christmas.
If you're stuck in the house due to the weather, check out our picks for ecommerce articles and posts around the web for December.
Top Pick: E-Commerce Copywriting: The Guide to Selling More – Smashing Magazine
A great read for any ecommerce merchant looking to spice up their online store in 2011!
Social Media's Effect on Holiday Sales – Practical Ecommerce
Good info and stats about the impact of social media for e-tailers.
What We've Learned About Online Holiday Shopping So Far This year – Forrester Blog
Stats and a breakdown of what they mean. A few hidden gems in this one.
10 Reasons Why Xmas Shoppers Won't Return to Your Site – Econsultancy
Don't make these mistakes…
A Shopper's Take: What Retailer Can Learn From Groupon's Shortcomings – eMarketer
Even if Groupon is not for your business, these tips will be.
The Island of Misfit Toys – Mine That Data
My personal favorite for the month (sarcasm done right)
The Narrower The Niche, the Wider the Opportunity – Small Biz Survival
It's all about matching up with a specific type of customer.
Does Your Product or Service Come with an Owner's Manual? – OPEN Forum
Well does it? If not, you might want it to…
The 12 Ways of Facebook Commerce – Practical Ecommerce
Great primer on using Facebook pages for an ecommerce store.
313 Ecommerce Tips for 2011 – Get Elastic
I saved one of the best for last – download this pdf and put it to use in the new year!
Looking for a web host that understands ecommerce and business hosting?
Check us out today!