25 Things To Check Before the Holiday Shopping Season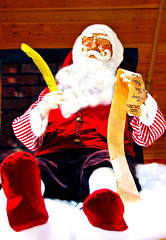 Whether it's Black Friday, Cyber Monday, or your busy season has already begun, having your website tuned up and ready for the influx of online shoppers is key to capturing the most sales. Just like Santa, checking your "list of things to check" is a good idea.
Here's a few ideas of items to test and verify so your store is in tip top shape. Hopefully one or two help you with your holiday preparations.
Santa's

(Rob's) List:
1. Make sure there are no security warnings on checkout
Just one tiny SSL error can scare customers off. Make sure your checkout page is fully secure with no warnings in both Internet Explorer and Firefox.
2. Test your website with the 3 major web browsers (Internet Explorer, Firefox, and Chrome)
Have you looked at your site in all 3 browsers? If not, make sure you do it now before your customers have a problem.
3. Monitor your internal search queries to improve the results
Keep a close eye on what customers are searching for on your site (you are logging this information, aren't you?). Review it often, and adjust your search based on what people are finding, and more importantly, what they are not finding.
4. Have a holiday gift guide / page (optionally sorted by price and gender)
Make it easy for last minute (and us lazy) shoppers to find a gift on your site. "Gifts for her/him", "Gifts under $50″, etc… are great ways to help customers decide on a gift.
5. Have a backup plan for real-time shipping and real-time payment gateway issues
What will you do if FedEx or UPS is down? What about if your payment gateway goes offline? Make sure you have a plan *and* can execute that plan quickly.
6. Make your returns and exchange policies clear and easily findable
7. Make it obvious that registering in order to checkout is optional
Don't burden the customer by requiring them to check out. And if it's optional, make sure this is clear as crystal.
8. Order status tracking link should be prominent
Customers shouldn't have to hunt around to find the status of their order.
9. Clearly define shipping times and options
10. Have a list of shipping options and last date to order to arrive by Christmas
It's very important to let customers know when they have to order by and which shipping option they must choose to get their gift in time. A late gift means they just became a one time shopper at your store.
11. Tweak your site to make it as fast as possible
Online shoppers are a fickle group. They don't want to wait around. Ensure your site is blazing fast to avoid losing the sale.
12. Use upsell and cross-sell to push higher profit items
Get 'em in the door with great deals, and then offer them upsell products that not only compliment their purchase, but pad your bottom line as well.
13. De-clutter your cart and checkout to avoid shopper confusion
Keep your cart process simple and streamlined. The goal is to close the sale, not entertain and distract the shopper.
14. Avoid heavy use of Flash for iPhone / iPad shoppers
This is the year of mobile (or at least the start of it) and those shoppers using an iPhone or iPad probably cannot view your flash only site.
15. Clearly mark out of stock and backordered items
Mark it both on the catalog page, and when the item is added to the cart. Timing is everything around this time of year.
16. Offer a sign up for your mailing list
Get their permission first, but make it enticing to sign up.
17. If you offer free shipping, tell the world!
Put it front and center. If there are restrictions, keep it simple so there's no confusion.
18. Contact information should be easy to find
19. Top sellers and popular gift items should be prominently featured
20. Monitor Google Webmaster Tools to watch for errors and Malware warnings
Log into Google Webmaster Tools and make sure your settings are set to email you when Google detects malware. Also review your stats to find broken links, errors, etc…
21. Use Google's ThinkHoliday website to see trends
Great site by Google to see what people are searching for this holiday season.
22. Monitor Twitter trends and use Twitter search to keep up with the latest info
If it's current and/or important, you can bet it's being discussed on Twitter.
23. Monitor declined transactions
… and follow up to save the sale.
24. Use social media for your store, but take a balanced approach
Unless you're getting a large percentage of sales from Facebook, Twitter, and the rest of the social media sites, don't focus too much of your time and effort here. If you do use these mediums, don't just blast your promotions over and over. Interact, provide tips, useful links, and mix in your message. People will be more accepting, and may actually pay attention.
and finally:
25. If ain't broke…
If what you have currently is working well for your store, don't be tempted to try the latest fad, gimmicky marketing (*cough* Groupon), or chase a mythical dragon. Use solid marketing techniques, measure the results, and keep a watchful eye on the important parts of your online store. The rest will take care of itself.
…
Have other helpful holiday tips? Please share them in the comments below.
Looking for a web host that understands ecommerce and business hosting?
Check us out today!