Cyber Monday Ecommerce Checklist – Check It Twice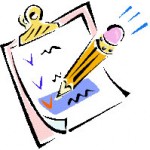 With the hyped up Cyber Monday (Black Monday) online shopping bonanza day fast approaching (the Monday after Thanksgiving), here are a few things to check (19 in this list) on your ecommerce website to make sure you're ready to capture as many sales as possible:
1. Check for security warnings (SSL errors)


Make sure your SSL secure checkout pages do not have *any* security warnings. Reference a previous blog post where we cover this in more detail.
Aside from privacy concerns, these transmissions are directly cutting into your bottom line by using up the monthly bandwidth allocation on your cellular or wireless service. I have an unlimited data plan, but, for many people, these unauthorized data transmissions can waste more than half of the monthly bandwidth allowance.
2. Test website in at least Firefox and Internet Explorer


At a minimum, you will want to view your website (including the cart and checkout pages) using both Internet Explorer and Firefox. You might be surprised to see that one browser looks great, while the other shows errors or mis-aligned images/text. Firefox accounts for 30-40% of all web browsers, so don't neglect it.
3. Shipping options tested and valid (including free shipping)


Your shipping options should be tested to insure they work for various postal codes, different products in the cart, etc… Make sure your shipping policy and options match what the cart is offering. If you're offering free shipping, it should be easy for people to know when free shipping applies, and that it works as advertised. Check out our blog post ShopSite Tips – Shipping Options for more ideas about shipping.
4. Payment methods are set and work


The more payment options a store has, the better. Customers like choices when it comes to making a purchase. Just make sure each method makes sense, works correctly, and does not cause confusion (i.e. PayPal, Google Checkout, Bill Me Later).
5. Shipping deadlines are clearly defined


This is crucial to get right. Holiday shoppers

*need*

to know when items will arrive. You should have a dedicated page for shipping times and deadlines. This page should be crystal clear and easy to find on your site.
6. Returns policy is defined, clear, and correct


Next to shipping dates, how you handle returns / exchanges will be important to holiday shoppers. Review your policy, make it simple, and have a link to this policy that can be easily found.
7. Contact info is prominently displayed


If you offer phone support, proudly display your phone number. It should be simple for shoppers to contact you, and to know which methods you support. If you have set hours, state them, including the time zone.
8. Product reviews are easy to use and displayed


Product reviews are a very popular feature these days, and more and more customers are looking to reviews before making a purchase. You should offer the ability to have customer reviews of products, make them a big part of each product page, and test them out to verify there are no errors or points of confusion when submitting a review. Read our blog post on Customer Reviews for more information.
9. System to solicit customer reviews after the sale is implemented


Don't neglect asking for reviews once a sale is complete. Put a system in place to request these reviews, and make it easy for people to click a link and review the product(s) they purchased. Want More Customer Reviews? Ask For Them! is a great post that goes into more detail.
10. Cart to thank you process is streamlined


Eliminate extraneous steps and questions when getting a potential buyer from the cart to the thank you page. Check out our recent blog post about the number of steps to complete a purchase.
11. Site search easy to use, and being monitored


Double check your site search to insure it is returning relevant results, and that the format of those results is logical and easy to follow. You should also be recording all searches performed so you can spot trends and searches that turn up zero results. You can then use this data to fine tune your search system.
12. De-clutter the checkout process


Get rid of any text, questions, or images that do not directly lead to the completion of a sale. If you're not using the data in a meaningful way, remove those questions from the process. A minimalist approach to the cart and checkout process can help maximize your sales.
13. Product up-sell / cross-sell used correctly (and sparingly)


Both up-sell and cross-sell are important tools to increase profit and sell more products. However, they have to be used sparingly, and the items suggested must be relevant to the buyer. Too much, and it makes the cart confusing and "messy". Too little, and you miss out on opportunities for buyers to add items that compliment their intended purchases.
14. Coupon codes tested and correct


Coupons are a great boon to holiday sales. But they can become a store's worst nightmare if the codes do not work, or the discount does not match the promotion. Each coupon code should be tested thoroughly for accuracy.
15. Gift certificates / gift cards are easy to find and purchase


People love giving gift cards. And they love using them to make purchases. Verify your gift card / certificate program is easy to find, easy to use, and easy to redeem.
16. Shopping comparison engine submissions are complete


Google Product Search, Shopping.com, Bing Cashback, etc… are all great ways to get your products found. Double check your feed submissions for accuracy and that they are accepted by the various comparison engines. Not submitting your products to these services? Look at a company like GoDataFeed that can help automate this submission process.
17. View Cart / Checkout links on every page


Don't make customers hunt for getting back to the cart. This link should be on every webpage in your site. And it should be near the top (and possibly bottom) of all pages.
18. Customer registration is optional


Don't force people to register to check out. If you offer this feature, make it optional, and more importantly, make sure customers know it's optional. Holiday purchases are often a one time buy. Requiring registration is not ideal for closing these types of sales.
19. Security seals are front and center


During the holidays, you may attract a number of buyers that are not familiar with your company. You want them to feel secure and safe when shopping on your site. Prominently displaying security seals and assurance programs such as McAfee Secure and BuySafe are great ways to show potential purchasers that you take security and the customer's privacy very serious.
I'm sure there are many more things that can be done and checked before the big online holiday shopping season "officially" begins. Please share those ideas in the comments below.
Looking for a web host that understands ecommerce and business hosting?
Check us out today!