Top Ecommerce Blog Posts and Article for October 2011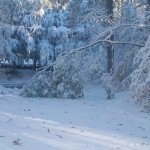 This was the view from my house down the driveway after the freak snowstorm this past weekend. It's amazing the damage snow can do when the trees still have most of their leaves. I just got power back today, so I'm returning to the digital world full-time.
Here's what I found to be interesting and useful last month from around the web…
TOP PICK: 10 Key Highlights On Mcommerce from the Internet Retailer Mobile Commerce Forum 2011 – Get Elastic
Mobile is the rage this holiday season. Here's what's happening.
Death Spiral: Divergent File Behavior – Mine That Data
A simple spreadsheet to see the health of your business.
20 ways to get reviews from customers – Econsultancy
Hit 'em from all angles…
5 Holiday Marketing Ideas to Boost Sales – Practical Ecommerce
Make those preparations now.
Five tricks our minds play on us and what marketers need to know – Econsultancy
My most interesting ecommerce read in October.
How To Use Cross-selling And Upselling To Maximize Online Sales – Amex Open Forum
Some good pointers on using this feature effectively.
Looking for a web host that understands ecommerce and business hosting?
Check us out today!