Top Ecommerce Blog Posts and Articles For January 2011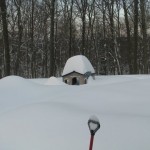 Man did it snow here in Connecticut this month! Over 71 inches of snow this winter, with more falling as I write this.
I thought I'd take a break from all this shoveling and list a few gems I found in January…
TOP PICK: Improving Your E-Mail Confirmations Can Boost Profits – Web Marketing Today
Just a few tweaks to your automated emails can really make a difference… see how here.
5 Tips for Better Results with Mobile Email Marketing – Copyblogger
More email tips when dealing with cell phones.
27 things I need to see on an e-commerce homepage – Econsultancy
A great checklist for what to have on your website.
The Biggest Mistake Made by Online Merchants – Practical Ecommerce
With that headline, how can you not click?  😉
Dear Catalog CEOs: Misinformation – Mine That Data
It applies to more than just cataloguers…
32 SEO Tactics to Avoid in 2011 – SEOmoz
I'm sure you can find a few that apply from this long list of dont's.
How Google Analytics Improved Our Business Over 75% – RemarkaBlogger
You have to look at your web stats…
11 Product Page testing Ideas for 2011 – Get Elastic
Some things to think about trying on your website this year.
Stop Making the 6 Biggest SEO Mistakes – Search Engine Watch
Avoid these blunders in search engine optimization…
The Top 5 Ways a Blog can Boost Online Store Sales – mywife QUIT herjob.com
Blogging is so important for online stores.
The Perceived Value Of Your Product – The Next Web
Know how to price your products for the most impact (and long-term profits)
Looking for a web host that understands ecommerce and business hosting?
Check us out today!