Top Ecommerce Blog Posts and Articles for October 2010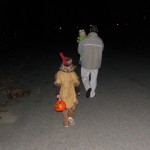 Halloween is over, and all of the tricks and treats are behind us for another year. Tooth decay lies ahead… oh, yeah, and also the impending start of the holiday shopping season.
Here's what I found to be of interest for the month of October. Hopefully you find a few "treats" to help your online store as well. Enjoy!
Top Pick: Discount / Promotion Algebra You Need to Know – MineThatData
Who said math is not cool? Run the numbers before taking the plunge!
10 Things to do for your Holiday Online Shoppers – colderICE
Some common sense things to check before the mad rush begins.
Is it Still Important to Offer a Site Map to Users? – Matt Cutts, GoogleWebmasterHelp
Short video clip from "Mr. Google" about a site map's importance.
SEO Myths, Mistakes and the Madness of Crowds – Outspoken Media
Great info here pertaining to search engine optimization.
Conversion Tip: Calculate Your "Free Shipping" Break-even – Practical Ecommerce
Simple but important tip to follow!
Why You Should Prevent Certain Pages From Being Indexed – Search Engine Watch
Don't let the search engines decide everything…
Serious Robots.txt Misuse and High Impact Solutions – SEOmoz
But do understand how to let the search engines know what you want.
Free PNG Credit Card, Debit Card, and Payment Icons Set (18 Icons) – Smashing Magazine
Royalty free images you can use on your website. Who doesn't like free? 

Looking for a web host that understands ecommerce and business hosting?
Check us out today!