Top Ecommerce Blog Posts And Articles For May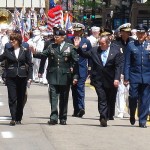 It's almost summer, the parades are starting… what a great time of year. Hopefully you're reading this post from a laptop or your iPad somewhere outdoors, enjoying the nice weather.
And hopefully you enjoy these top links for the month of May. 

Why Your Google Ranking May Soon Start Falling – Jim's Marketing Blog
Who your host is matters greatly.
Why 'Conversion Rate' Is A Horrible Metric To Focus On – Smart Insights
Conversion numbers do not tell the whole story.
How To Sell Without A Sales Pitch – Copyblogger
Use your blog to generate buzz
Can Unusual Shaped Buttons Increase Conversion? – Get Elastic
A little variety can be helpful. Too much may not be a good thing though.
Good Product Description and Ad Copy Made Easy (video) – ColderICE
some good tips on spicing up your ecommerce text.
Costs Of Adding E-Commerce To Brick-and-Mortar Retailing – OPEN Forum
Hurdles to overcome when taking your retail business online.
New Changes To Google: What Will They Mean To Your Ecommerce Business – Retail eCommerce Blog
See how to maximize your Google exposure.
How To Save 5% To 40% On PPC Using Negative Tems – Search Engine Land
Great ways to minimize cost while maximizing relevancy
Optimize Product Pages & Increase Sales – Practical Ecommerce
Some concrete examples and super ideas for any online store.
Looking for a web host that understands ecommerce and business hosting?
Check us out today!