Top Ecommerce Blog Posts and Articles For March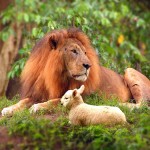 Ah, March, the start of spring. As the saying goes: "March comes in like a lion, goes out like a lamb". We'll list a few "killer" posts and articles related to ecommerce for the month of March below.
Click away!
New Requirement for Google Merchants, Verify & Claim your Website URL by May 18th – GoDataFeed
If you use Google for your product feeds, make sure you perform this critical step.
Five Handy HTML Tags To Help Your Ecommerce Business – Practical Ecommerce
Simple HTML help that is essential for any website
Over 140 marketing and business development ideas! – Jim's Marketing Blog
If you are looking for marketing advice, this is the place!
Selling to Women! – Changing People Blog
Insightful post about the nuances of marketing to women
Dear Catalog CEOs: Customer Loyalty – Mine That Data
A must read for any ecommerce owner
Optimization Tips for Smaller Online Retailers – Michael Whitaker
Simplified web analytics
What Is Business Blogging Really – Next Level Blogger
A good discussion on the "perks" of blogging for a business
5 Ways to Write a Killer B2B Blog Post – Marketo
Another blogging related gem for B2B websites
10 Small Business Blog Tips (that Make a Big Difference) – Remarkablogger
Good tips to enhance your business blog
Five Common SEO Mistakes Made by E-commerce Sites – Econsultancy
Simple rules to live by for your online store
Best Practices for Online Checkout Process, Revisited – March 2010 – Usability Sciences
Great list of things to do (and avoid) in your cart's checkout process
…
If you like what you're reading, most of these links we post on Twitter. So Follow Us on Twitter for more topics like this!
Looking for a web host that understands ecommerce and business hosting?
Check us out today!