ShopSite Tip – "In Store Pickup" Shipping Option
Offering an "In Store Pickup" option is popular among online stores which also have a "Brick & Mortar" location.  All you need is a free shipping option with a name like "In Store Pickup" and it's easy to add that with ShopSite.
Flat Rate Shipping
On ShopSite's Commerce > Shipping screen there is a "ShopSite Shipping Rate Calculations" option which allows you to enable 1 of multiple table-based shipping methods.  Enable the "Flat Shipping" option and click Configure*:
*Only 1 table-based option can be enabled.  If you are already using another option on the list then you can't switch to Flat Shipping.  You can leave it set to your current option and click Configure to add an additional option to your list.  The screenshot below will not match what you see, but you can easily add another shipping option to the list you'll have on your screen.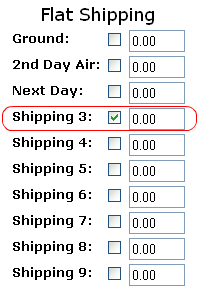 On the next screen enable one of the shipping options and set its rate to $0.00.  Don't worry about the option name  but remember which one you turn on:
Changing The Name
Next click on Preferences > Store Text > Shipping.  Here you will see a list of the same shipping options and you can rename the one you used above.  Set the name to how you want it to appear for your customers.  For example in our screenshot below we used "Shipping 3″ and renamed it to "In Store Pickup":
That's all there is to  it.  Once you save that setting your new "In Store Pickup" option will display on your shopping cart with your other shipping methods.
Another Method
If you're already using ShopSite's Shipping Rate Calculations for other shipping options or if you want to limit the In Store Pickup option so it only appears for certain products or customers in a certain area, we have a custom shipping module available which can be used:
https://www.lexiconn.com/ecommerce/shopsite/shipping_module.html
Our custom shipping module is available for free for any LexiConn customer and requires ShopSite Pro.
How Popular Is In Store Pickup?
If you're not sure if you want to add it, you may want to check out this article by econsultancy.com:
Seven reasons why retailers should offer in-store pickup
It's not as popular here as in the UK, but it can be a great advantage over other stores which only have an online presence.
Looking for a web host that understands ecommerce and business hosting?
Check us out today!