ShopSite Custom Shipping Module
Free for hosted clients of LexiConn
This free custom shipping API module, available for any ShopSite Pro store, allows merchants to configure all of the built-in shipping options in ShopSite (shipping by weight, shipping by currency, flat shipping, etc...) and place restrictions on what countries or states apply to each option, restrict which products can be allowed for a certain option, and more.
Common scenarios would include:
Have a low cost shipping option for just the continental US.
Offer different rates (or even different types of shipping calculations and options) for US vs. International customers.
Have certain products restricted from seeing certain shipping options.
Have a shipping option that only appears for certain products
The module has an easy to use web based interface, and allows for a lot of customization in terms of how shipping options are calculated and returned to the customer.
Click screenshot image to enlarge: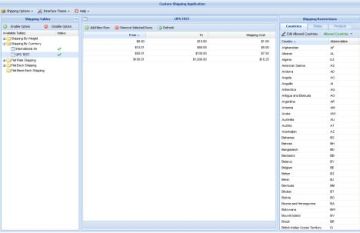 You may view the Online Documentation .
If you are a client of LexiConn, simply send an email letting us know you would like this module installed. If you do not host your ShopSite store with LexiConn, check out our seamless transfer process to have your ShopSite store and website moved over to LexiConn.