Web Hosting is Not a Commodity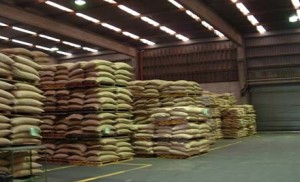 These days, more and more web hosts are trying to make web hosting into a commodity. With thousands of hosts to choose from, it is becoming exceedingly difficult for customers to differentiate one host from another. Hosting companies are portraying hosting as more of an all-you-can-eat salad bar, offering unlimited space and transfers, and the same control panel and pre-installed scripts. With relatively little differentiation in offerings, a virtual price war is established where lower prices are the only deciding factor…
Putting the "HOST" back in Hosting
Websters defines the word "host" as:
a person, place, company, or the like, that provides services, resources, etc.
They key word in that definition to me is: services
However, hosts are trying to remove this word from the definition, instead focusing on the "resources" word. This seems all too apparent based on:
Outsourced support


Hosting companies are outsourcing the very thing that could set them apart to third party support companies, overseas call centers and help desk farms. They have made customer service take a back seat to the resources aspect of hosting.
Bits and Bytes


Take a look at any of the big name hosting companies and they are touting their unlimited space and transfers (or some other ridiculously high amount of space and traffic that is not attainable and easily cut off by a carefully worded Terms of Service).

Bottom of the barrel pricing


The proverbial "race to the bottom". When your hosting account costs less than a McDonalds extra value meal, how much attention and support can be provided to each account?
Service is KING!
Even though technology advances and things become more automated, when problems arise (and they often do as technology becomes more complicated), you need quick and thorough answers and solutions to minimize the impact to your website.  Ask yourself how your host will respond to the following issues:
You can receive your emails but are having trouble sending them out.
Your contact us form is being submitted hundreds of times a day by some automated process.
Your free shipping coupon you sent out in your e-blast is not working.
Is it like pulling teeth to get these problems addressed? Does it take a back and forth correspondence of 2-4 times over a period of 24 hours to get something resolved? Does your host know and understand your ecommerce application?
If your host is more like a partner (or your "virtual IT staff"), they should be able to easily handle and solve most of your issues in the first go-around, without any reading out of the playbook or templated answers.
A service based host should:
Understand their core software offerings inside and out


Each support person should be an expert on the software that host offers, especially if it's ecommerce software. It does no good to be referred to a generic FAQ at the software company's website
Front line support should be in-house and well trained


No going through 3 levels and waiting 48 hours for an intelligent response. The front line support personnel should be equipped to handle 90% of the issues, and solve these issues quickly and thoroughly.
Be able to pick up where the last person left off


Nothing is more frustrating and a waste of time then having to explain the issue from the beginning every time you interact with support. They should have the ability to be up to speed within a minute of a conversation or receiving an email / support desk update.
I'll leave you with this example of how choosing the wrong host can go wrong and cost you 1000 times what you pay…
Scenario:
You have an online store using the ShopSite ecommerce software, and use Authorize.net as your payment gateway. You just launched an aggressive ad campaign, and you're getting a few calls and emails about problems checking out. You do a quick test with your own credit card and see this on the checkout screen: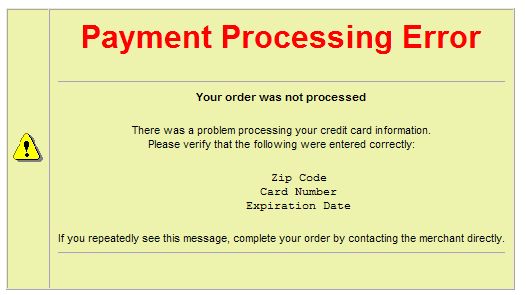 You know your own card details were entered correctly (you tried it 3 times), so you fire off an email to support. They respond with:
– Did you type in the wrong zip code or expiration date?
Did they read your email?? You already stated you verified this 3 times. You respond right away saying yes, everything is verified, what could it be? An hour goes by and they respond:
– Everything seems to be working with Authorize.net, maybe your cart software is broken?
Frustration rises, lost sales are piling up, and you're no closer to solving the problem that began 3 hours ago. If you were with a host that understood ShopSite (or insert whatever software product you're using), they would have responded with:
– Please enable error details in ShopSite under: Commerce Setup -> Payment -> Configure Processor and place another test order. When the error code/details are displayed, let us know the exact error
You do this right away, it gives you a sub-code 103 error, you pass it along, and 4 minutes later the solution is presented:
– This error indicates that your transaction key or API id is not valid. Have you recently changed either of these in your Authorize.net control panel? If so, you need to update these settings in your ShopSite backoffice to match.
BINGO! Problem solved, you update the transaction key in ShopSite, and your store is back up and running. Clear, concise answers with thought and context to make things go smoothly. Now you remember why you chose this host. 

Web Hosting is not a commodity. It continues to be a service oriented industry where customer service and support reign supreme, and it is in that respect where web hosts are still able to truly differentiate themselves.
Looking for a web host that understands ecommerce and business hosting?
Check us out today!