ShopSite Tip – Customize Your Tax and Shipping
It seems obvious, and is quite simple, but I'm always amazed when some merchants do not take the time to customize the shopper selected sales tax text and default shipping options. Instead, you see this in the cart: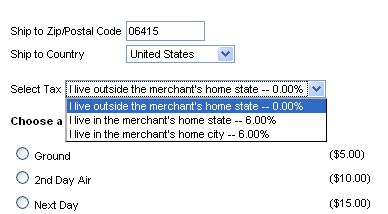 When a would be customer puts something in the cart, you're now expecting them to know what state and city you reside in, and to understand the time frame of each of these generic shipping options. What's more likely is they will become frustrated and/or confused, and go somewhere else to complete their purchase.
Instead of the above graphic, take a few minutes to configure sales tax and shipping so it's easy to understand. For sales tax, it's probably best to set the option "Use Zip code to determine sales tax" and have the shipping zip code entered on the cart page automatically determine the applicable taxes. If you need/want the shopper to select the sales tax, make sure the options are clearly labeled and make sense for a new customer that does not know anything about your company. Here's a good example for the complicated New York state sales tax by county: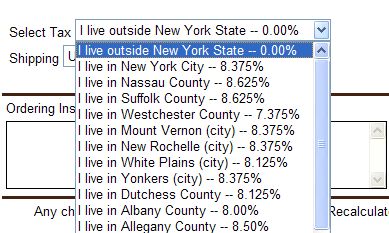 …
For shipping in ShopSite, you can customize the text under:
Preferences -> Store Text -> Shipping
The shipping options should be descriptive, indicate the carrier if applicable, and an estimate of delivery time. There should be a few options that a customer can choose from, but do not overwhelm them with too many options, as it can be confusing. Here's an example of descriptive shipping options:

It may sound like simple advice, but I still see stores go live (and ones that have been running for years) where these default values and options have not been altered. The shopping cart is where you want to make it as easy and straightforward as possible for a potential customer to "pull the trigger" and commit to making a purchase. Putting roadblocks in their way such as confusing sales tax and shipping options that are insufficient in their delivery method will only lead to higher cart abandonment rates.
(We'll examine the cart to checkout to completed order flow in a future post.)
Looking for a web host that understands ecommerce and business hosting?
Check us out today!