Top Ecommerce Blog Posts and Articles for June 2012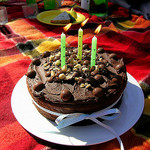 My son's third birthday is tomorrow. Seems like just yesterday he was learning to walk.
Now he's running around, talking up a storm, and keeping me on my toes. 

In the ecommerce realm, it seems like just yesterday that Google Product Search was free for merchants…
TOP PICK: Website Optimization Basics – Search Engine Watch
My favorite post of the month. Simple breakdown of what to do for SEO.
Google & Ecommerce: 10 Things Business Owners Need to Know Before July – Search Engine Watch
Great post about the new Google Shopping – Get in on it now, even at one cent bids.
Is Your Ecommerce Model Profitable and Sustainable? – Practical Ecommerce
Important things to think about in terms of dollars spent and earned.
How to Design an Ecommerce Website Experience Your Shoppers Adore – Hubspot Blog
Some solid ideas for getting the most out of your online store.
Shopping Cart Abandonment Emails (20 critiques) – Listrak
Large number of real-world examples for abandoned cart emails.
Looking for a web host that understands ecommerce and business hosting?
Check us out today!