Google Trusted Stores – What's Involved for Merchants
Google has opened the floodgates. As posted on their Google Retail Blog, Google Trusted Stores is now open to all US-based merchants!
The program is free for merchants. If you're accepted into the program, and meet their requirements (more on that below), you'll have a trusted badge in search results, and one that appears on your site. You could also include the trCustomers who hover over it will see a report card on your business: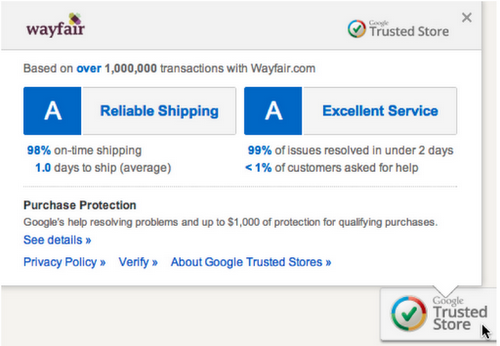 Sound like a "no brainer" to join? Well, nothing in life is really free. Here are the requirements and standards you have to meet to be a Google Trusted Merchant (in addition to sharing all of your purchase data and shipping data with Google) [data pulled from the "Merchant Guidelines" policy page during the sign-up process]:
US Merchants only, English as the primary language on the website
Clearly Visible Terms of Service, Privacy Policy, Returns, and Shipping policies
No selling of Google Prohibited Items (same list as Google Product Search / Google Shopping)
Drop shippers are allowed, but not through ready-made drop shipping sites. Merchants must charge the card and cause an item to be shipped.
Accurate inventory availability at all times
PERFORMANCE STANDARDS:

On-time shipping > 90%

More than 100 orders on a rolling 28 day basis

(

edit 11/28/2012 – More than 500 orders on a rolling 28 day basis

)
> 50% trackable shipments
90% of orders must have an actual ship date within 3 days of estimated ship date
Average time to shipments less than or equal to 14 days
< 2.5% cancellation rate
< 10% of orders are pre-orders or backorders
Merchant must respond to the customer questions within 2 business days 99% of the time
99% resolution rate to customer questions within 2 business days
100% of refunds  within 2 days if product does not have to be returned by customers, or within 6 days of receipt of a returned item.
Google code on every page to track shoppers, and code to pass data back to Google on the receipt/thank-you page.
Code, Manual entry,  or a data feed to pass tracking numbers, cancellations, and refunds back to Google for measurement.
As you can see, it's quite a long and detailed list.
Make sure your company can meet or exceed these requirements (especially the greater than 100 500 orders per 28 days requirement) before going through the application process.
But if you are confident your company can perform at the level Google requires, get signed up!
Looking for a web host that understands ecommerce and business hosting?
Check us out today!