US Postal Service, UPS and FedEx Shipping Updates – Where To Get Them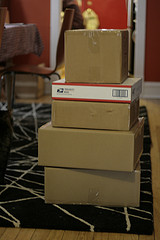 If you're an ecommerce merchant that offers real-time shipping rates in your shopping cart, you know the pain that comes with a shipper you use being down or not working correctly…
Lost sales, incorrect shipping rates, frustrated customers, and lots of time trying to untangle the mess afterwards.
What's worse is this usually happens when you least expect it. The good news is…
There are a few simple ways to know when these issues arise.
US Postal Service (USPS) updates
Did you know that currently shipping to Canada is suspended (only Global Express Guaranteed works due to the postal strike in Canada)? You would if you made the following link a favorite / bookmark in your web browser:
I'd recommend visiting this page daily if you ship via USPS and offer real-time rates.
If you find the USPS rates aren't working in your store, you can contact the US Postal Service via email at uspstechsupport@esecurecare.net or you can call the API care center at 1-800-344-7779 (7 AM to 11 PM EST). They can tell you if their real-time online rates are having issues.
FedEx updates – Get on their email list
Were you aware of the upcoming four-hour outage FedEx has planned for real-time rates on Saturday July 2nd starting at 10 PM ET? If not, then you should sign up to receive email updates from FedEx at their website:
If you find your FedEx rates in your cart are not working, give the FedEx help desk a call, and ask to speak with their API / Ship Manager department:
1-877-339-2774
United Parcel Service – UPS
Probably the least customer friendly of the shippers when it comes to updates is UPS. They have a web page that is not updated very often, but does have some outdated information:
UPS Announcements and API Updates
Other than that, if you see a problem with UPS shipping options in your cart, you can email them from their website (slow turnaround):
E-mail UPS Page
or give them a call:
1-877-289-6420
…
You should also have a backup shipping plan when these shippers experience problems. This will allow you to continue receiving orders without too much trouble.
We try to post updates on Twitter when we see shipping issues pop up for our ShopSite clients. So Follow Us on Twitter to receive these type of updates.
Hopefully I've highlighted a few resources to help you stay up to date with what the big 3 shippers are up to. Any other tips / ideas for staying in the loop when it comes to shipping?
Looking for a web host that understands ecommerce and business hosting?
Check us out today!