It's the Little Things in Ecommerce… 7 Things Merchants Get Wrong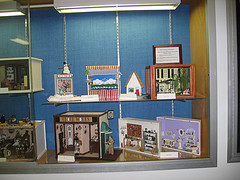 I look at a lot of ecommerce carts and ShopSite ® installations each day. And I often see the same "little" mistakes repeated over and over.
The problem is, what a merchant may see as little and unimportant could easily be a deal breaker for a potential customer.
The good news is these small errors are easily corrected. Here's 7 that I see regularly.
1. Store has a minimum order amount, but it's not stated

Don't forget to edit the warning message if you require a minimum amount to check out. You'd be surprised how many times I see this one. Think how frustrated a customer would be not knowing what they need to spend to complete a purchase…
2. Default tax settings that make no sense
Outside the merchant's home state? How does your customer know what state you're in ?!?!?
Please edit this text before going live.
3. Standard custom shipping API error message – gibberish to the customer

Edit the default text to provide better advice to the customer.
4. Standard credit card decline message – Not very helpful at all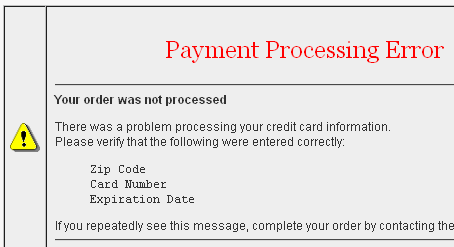 Make sure you enable the display of error details, and modify this text to possibly have the customer email you the details if they do not understand why the charge was declined. Tailor this message to save the sale.
5. Simple SSL warning that can scare a customer away
Just one tiny SSL warning can drive a sale away. Make sure your secure pages are 100% secure. Check out our www.WhyNoPadlock.com site for easy testing.
6. On cart screen, zip code is not highlighted as "Ship To" zip/postal code
If you use ShopSite and have a prompt for the zip code on the shopping cart page, make SURE this text clearly lets the customer know to enter their SHIP TO zip/postal code.
Failure to make this clear will send your customers in a loop between checkout and the cart if they enter their billing zip on the cart page.
7. Requiring a field on checkout, but it's not labeled as required
Remember the first rule of Check Out:
Only require that which is ABSOLUTELY necessary to complete the sale.
If you must require additional fields and information, make sure it's obvious that a field is required if the customer must fill it in to complete the process. Failure to do this will result in very angry customers when they are not allowed to check out.
…
Hopefully your store is already avoiding these 7 "little" mistakes. If not, take the 2 minutes it will take to correct them, and you'll hopefully reduce your cart abandonment right away!
If you have other examples of common cart mistakes, please share in the comments below.
Looking for a web host that understands ecommerce and business hosting?
Check us out today!