Don't Be Lazy When Asking For Product Reviews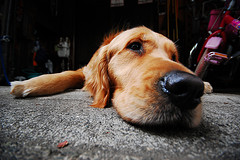 I recently purchased a few new golf clubs from a major golf equipment website. Avid golfers will know why I purchased 3 wedges, as the groove requirement is changing for future clubs. But now I'm straying from the point.
After my clubs arrived, I received an email asking me to review the products I purchased. However, there was no link directly to my actual product purchases, nor was there a link directly to the review section for each product!
The merchant wanted me to remember what I bought, find the products on the site, find the review form, and then fill it out. I don't know about you, but I'm pretty busy these days, and don't have the time to hunt around to help the merchant out.
As they like to type on Twitter:  #fail (translation: The merchant failed in their attempt to get me to review my products.)
At least they asked
Although the merchant may have failed in their execution, at least they asked me to review my products. +1 for them.
Don't be afraid to ask your customers to write a review. The worst they can do is… nothing. But if you don't ask, then it's also unlikely they'll return on their own to do so.
But ask correctly…
Make sure the product is in hand
This golf merchant also sent the email *after* I received the clubs. +1 again.
Make sure your emails are setup to go out after an appropriate amount of time has passed *and* after they have received the products. Timing is key when sending review requests.
Lead the customer right where you want them to end up
The golf merchant failed to make it easy for me to leave a review. Don't make this mistake with your clients. Send them an email with direct links to the products they ordered, or the review section for those products. This is what helps to get more customers to leave a review.
If you're a merchant using ShopSite as your ecommerce platform, we offer a Product Review Add-on Module that makes all of this easy to do. It handles the direct linking to products purchased, can be automatically timed to go out after a product has shipped, and allows personalization to ask for the review.
…
The moral of this story blog post: Don't just ask for the review, ask for it correctly. And make it so easy, it's almost harder to delete the email then it is to just leave a review.
Looking for a web host that understands ecommerce and business hosting?
Check us out today!