The Basics – Online Credit Card Processing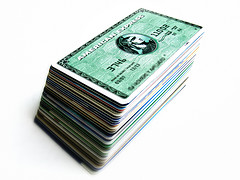 One of the topics that customers often ask about when they are new at starting a business or just new at starting an online store – is credit card processing.  While we're all familiar with the process of using a credit card as a customer, the process for a merchant is a mystery to many.  In this article we'll review the basic steps and accounts needed to process credit cards online.
The Accounts
Three different accounts come into play when you process credit cards online.  The payment flows through them in this order:
Gateway Account -> Merchant Account -> Bank Account
Bank Account
A bank account, usually a checking account, would be used for the automatic deposits of the credit card funds.  You can open this account at the same bank you use for your personal banking.
Merchant Account
A merchant account is the name given to the account with a credit card processing company, which provides your company with the ability to process credit cards.  Whether you accept credit card payments online, over the phone, or with a card-swipe terminal in a store, a merchant account is used to process the payment and transfer the money to your bank account.
A typical merchant account will charge a small percentage of the sale to the merchant, a per transaction fee, and may have a monthly fee.  Once a day the successful credit card charges from that day will all be processed and the money electronically transferred to your bank account.

There are many merchant account providers available.  Cardservice International also known as First Data is the company we partner with here at LexiConn.
Gateway Account
A Gateway Account or Payment Gateway, is a service which allows you to process credit cards online.  Their service works in conjunction with your website and your merchant account to securely accept the credit card details and process the charge.  The system will authorize the sale and return whether the charge was successful or if it was declined.
You can think of the gateway account as being just like a card-swipe machine at a store, except instead of swiping a card through the terminal in front of you everything is handled online through the internet.
When the charge is successful the payment is queued in your merchant account for deposit, but if the charge is declined the details are sent back to your website so your online store can inform the customer.

We recommend Authorize.net, which is one of the most popular payment gateways with support integrated into ShopSite and most other online store software.
…
While accepting credit cards online can start out as a mystery and it takes multiple accounts with different companies to do it,  once you are familiar with the accounts and the roles they each play in the process it's not as complicated as it first seems.
Looking for a web host that understands ecommerce and business hosting?
Check us out today!