How Often Should An Ecommerce / Business Blog Be Updated?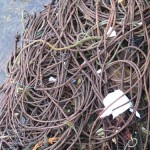 There's a lot of information on the web about how often to blog if your main focus is blogging. In other words, if your "business" is your blog, then you're in luck. However, for many of our clients, whose primary goal is either ecommerce or their business/service, blogging is something that feeds into their overall objective, but is not their sole focus.
So how often do you need to be posting? The answer…
How long is a piece of string?
There is no standard
There is no golden rule or rule of thumb when it comes to business and ecommerce blogging frequency. Rather than try to adopt what the power bloggers tout as optimal posting frequency (which often boils down to daily or near daily posts), ask yourself this question:
How often can you find time to update your blog?
Let your time constraints dictate how often you can update your blog. Even if multiple people in the business will be posting, look at how much time and resources you have available, and then develop a plan for posting frequency. You can always adjust it later.
There's nothing worse than posting just to post, or trying to meet a goal that is not realistic based on your time constraints. However, do not let your blog become a graveyard:

I don't know about you, but when I am browsing a website and find their blog has not been updated in months or years, I start wondering:
Are they still in business?
Do they keep their website up to date?
Is this the kind of place I should be shopping at?
Do they not care about keeping their customers up to date and informed?
These are not the types of questions you want potential customers asking about your business.
Here's what we decided on…
For our blog, we've settled on an average of two posts a week (Tuesday and Thursday). If something comes up, we'll sometimes add an extra post during the week, but that is the exception. If we do not have enough to say, then maybe it will only be one post for a given week (again the exception).
We chose this posting schedule for a variety of reasons:
It's a schedule we feel confident we can adhere to without adversely affecting the quality of the blog or sacrificing time for other business needs.
We've found that our clients and potential clients (our target market for our blog) can absorb and read this amount of information without becoming overwhelmed, while keeping them engaged on a regular basis.
Tuesday and Thursday work well for business readers, as Mondays are often hectic / catch-up days, and Fridays are often spent finishing up tasks before the weekend.
It allows us to have a variety of topics that are of interest to our readers without stretching it too thin or scrounging for ideas to fill the space. This is key for any successful blog.
Here's what I recommend…
If you're looking for a recommendation, or a starting point for how often to blog, here are my suggestions:
Bare minimum: Once a month. Anything less than this will start to feel like a western complete with tumbleweeds and wind. This should be doable for even the busiest of small businesses, and keeps the appearance of the blog not being "left for dead".
For the busy business: Once every 2 weeks.
My recommendation: At least once a week.
Adjust the frequency as needed
The above are just some general guidelines to get you started. Your time, your energy, and your creativity will dictate what works best for your blog. Post more often if you have more to say. If you have the time or extra employees to post more often, go for it. Find a few guest bloggers that would like to contribute.
Most importantly, find out what your readers, customers, and potential customers would like in terms of your blog posts and how often you should write.
Sometimes, less is more.
What do you think is the optimal posting frequency? What have you found that works well?
Looking for a web host that understands ecommerce and business hosting?
Check us out today!