ShopSite 10 Service Pack 1 (SP1) – What You Need to Know

The latest version of ShopSite, version 10 Service Pack 1 (SP1), is due out soon (Update 11/19 – The official version has been released). We're actually in the middle of beta testing the new version. And from what we've seen so far, it's a great release chock full of new features.
Click for the Full List of New features
Once SP1 is officially released (which we'll announce on Twitter, Facebook, our homepage, newsletter, etc…), we'll be offering this upgrade, which is free for any hosted client currently running version 10. If your store is quite busy this time of year, and you do not want to risk any issues, you may want to hold off on upgrading until after the holiday rush is over.
A few things to note:
If your store uses Google Checkout as a payment method, we recommend disabling the pre-google screen entirely (Commerce Setup -> Payment -> Google Checkout Configure). This is a welcome change as the pre-google screen was just an extra and often confusing step in the checkout process.
With SP1, you can now easily backup all of your ShopSite settings, custom templates, and reports. We recommend doing this on a regular basis so you have a local copy of everything contained in your ShopSite store.
ShopSite's added drop-down menu built-in support is quite nice. You may want to consider using this feature if your current navigation is not the easiest to use.
The "Preferences -> Page Header & Footer" section has been moved into the "Preferences -> Layout Settings" section. This new section has global control over fonts, colors, images, etc… Be careful, as changes here can change your entire website.
ShopSite added 15 more extra page and product fields. This is a happy day for designers, developers, and merchants who were running out of fields to use in their custom templates.
ShopSite now allows you to upload an Excel file directly. However, ShopSite only recognizes the older Excel 2003 format. If you are running Excel 2007, you have to save your file in the older Excel 2003 format to upload it (the .xlsx format is not supported).
Recurring Billing through Authorize.net
This new feature will be a big one for merchants that sell subscriptions or have recurring orders. A product can be marked as "Recurring" and when this product is purchased, it is automatically setup in Authorize.net. It couldn't be easier!
To use this new feature:
1. You first have to enable recurring billing under:
Commerce Setup -> Payment -> Configure Processor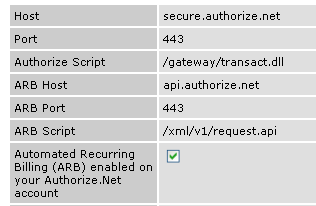 2. Under "Edit Product Info" for a product, you can now setup recurring billing:
Options include setting up the interval (weekly, monthly, semi-annually, etc…), the price, when the subscription ends, setting a trial price, and an optional one-time fee.
Multiple Images on More Info Pages
This was a highly requested feature that ShopSite has now incorporated. You can now assign multiple images to a product, and have them all appear on the more info page. Just make sure all the images are the same size (after resizing) so that the larger "zoom" image does not move around on the screen when the smaller images are moused over.
eBay Turbo Lister
ShopSite has vastly improved their eBay integration by abandoning the API method (which was quite faulty) and replacing it with eBay Turbo Lister. This service lets you quickly upload and edit items in bulk on eBay. You simply download your desired products and fields (such as price, sku, name, images, etc…) under:
Utilities -> Database -> Download -> Products
Publish Auxiliary Files
This is another solid improvement for ShopSite generated pages. You can now put your css and JavaScript code in these "publish" files, which will be generated in your webspace upon a publish. You can then link to these files in your templates. The advantage is you no longer have to include all the css and js code in each page. They can simply be links now, and it's all supported inside the templating system.
Translated: This will create smaller and faster loading pages, and make it easier to manage css/js changes.
…
We're excited for the official release of SP1. The large array of new features makes this a "must upgrade" version for all ShopSite merchants.
Looking for a web host that understands ecommerce and business hosting?
Check us out today!