Payment Processor Popularity Among Small Online Stores
There are so many payment processors available that it can be a daunting task for a new merchant to choose one.  It usually comes down to which are the most popular, what their rates are, and of course – what processors your ecommerce solution supports.
Today we're going to review what processors a portion of our small business clients are using for their ShopSite online stores and some of the results are a bit surprising.

Credit Card Processors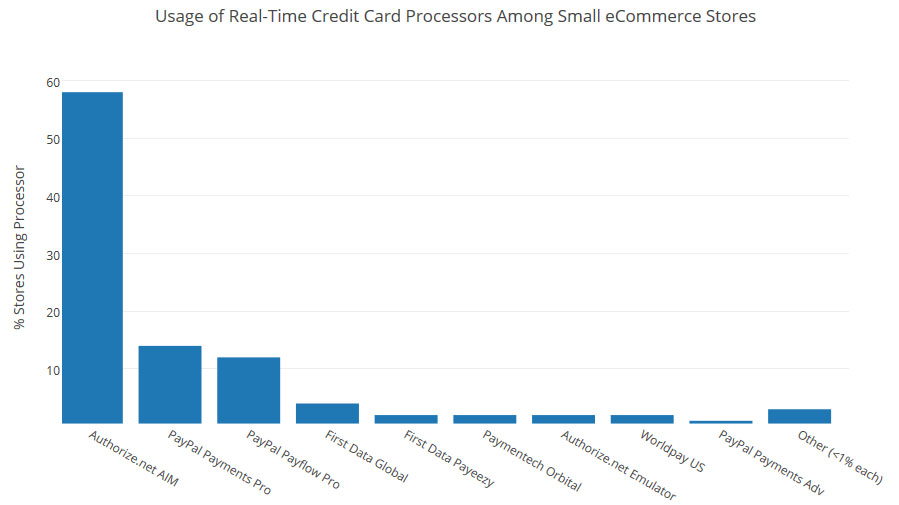 Authorize.net is our easy leader, with 58% of the stores surveyed using their service as their processor.  PayPal comes in 2nd and 3rd place with PayPal Payments Pro at 14% and PayPal Payflow Pro at 12%. All other providers came in at 4% or less, with 10 processors under 1% each. The convenience with Paypal is that you need not know the swift code of the bank you're tranferring huge funds to, whereas with obsolete transaction procedures, you're required to do that.
You may be thinking where are Stripe, Braintree, or other payment options you often hear about?  Braintree is among the <1% group and Stripe is not yet a supported processor in ShopSite.  We're also looking at a group of stores that are not just "new" online stores – some of these businesses have been selling online for 20 years or more, so newer payment options like an AMEX credit card with overly high processing fees may not be as enticing to people who have been using services such as Authorize.net for many years.
Think about it this way – Stripe is 5 years old and Braintree has been around for 10 years, but Authorize.net was started 21 years ago in 1996 – so it's not surprising they have a strong hold among our customers.

PayPal & Amazon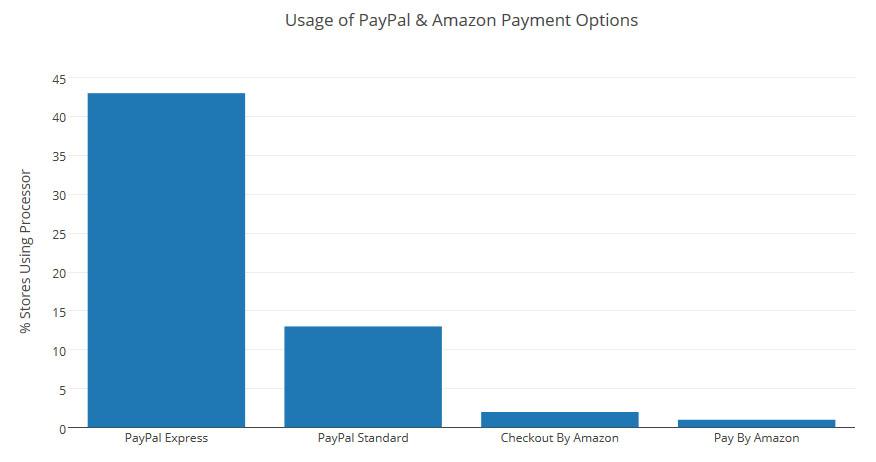 PayPal has been around for 18 years so we expect to see a high usage, even though they haven't been offering a website payment solution that whole time, and we have 43% of stores using their PayPal Express Checkout option.  What we did not expect to see was another 13% of stores are still using the older PayPal Standard option.
Slow to be picked up by our customers are the Amazon payment options: 2% of stores are using the older Checkout By Amazon service, which has recently changed to Pay By Amazon which 1% of our stores are using.  ShopSite has supported the Amazon options for over 5 years, but why are only 3% of stores taking advantage of them?
Resistant To Change?
We see all types of customers – ranging from the ones who implement something new on their website right away, to building a fresh staging site to test a minor change, but it appears they may all be wary of changing or expanding their payment options.
We can see an example of this with Braintree, which has been supported by ShopSite for over 6 years, but almost no stores are using them.  Their rates are comparable, they even support payments via BitCoin now, but our customers are not moving to them.  They may not want to change what they are used to using.
However, adding options such as PayPal or Amazon are simple – they do not replace your credit card processor and are added alongside credit cards as an additional option.  With an estimated 197 million users on PayPal*, and over 310 million for Amazon** – it's a no brainer for stores to start offering those payment options for easier purchasing by their customers.
—
Sources:
*PayPal Users:
https://www.statista.com/statistics/218493/paypals-total-active-registered-accounts-from-2010/
**Amazon Users:
https://www.statista.com/statistics/476196/number-of-active-amazon-customer-accounts-quarter/
Looking for a web host that understands ecommerce and business hosting?
Check us out today!