7 Common Reasons Why Products Don't Display in Magento
In this post, we will be reviewing some of the more common reasons Magento products do not display in the frontend.
1.  Product updates have invalidated the cache
When using the Magento cache option, a refresh is required after product updates.
System > Cache Management  
The invalidated cache will be displayed in orange.
Also, if you are running FPC (Full Page Cache), be sure that it has flushed the page where the product is expected to appear.  Some modules require a complete manual flush of the FPC, while others are more automated/selective.
2.  Product is not assigned to a website
Catalog > Manage Products > Website (tab)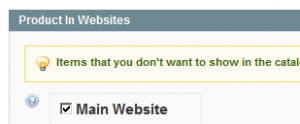 3.  Product is not assigned to a category
Catalog > Manage Products > Category (tab)  
4.  Product is out of stock
Catalog > Manage Products > Inventory (tab)  
By default, products with a 'Stock Availability' of 'Out of Stock' (OOS) are not displayed on category pages.  Though, they can be accessed directly via the products URL.
You can change the default setting to display OOS products System > Configuration > Catalog > Display Out of Stock Products (change value to Yes).
Once the setting is changed, Indexes need to be rebuilt in System->Index Management.
Also, remember to update cache (System -> Cache Management, etc…).
Reminder: When making changes to system defaults, be sure the scope is set correctly.  This is especially critical if you have multiple sites, stores and/or views…

5.  Product status is 'Disabled'
Catalog > Manage Products> General (tab)
Set Status to 'Enabled'

6.  Product visibility does not include 'Catalog'
Catalog > Manage Products > General (tab)
Set Visibility to either 'Catalog, Search' or 'Catalog'

7.  Category page Display Mode is set to 'Static block only' (and the assigned static block does not contain support for product display)
Catalog > Manage Categories > Display Settings (tab)  
Set Display Mode to either 'Products only' or 'Static block and products'
If you have frequently experienced other scenarios where products have not displayed on Magento catalog pages, feel free to send us the details!