ShopSite Sales Stats and ROI Module
What are your best selling products?
Where are your sales coming from?
Which ads and websites are bringing in the most revenue?
How many repeat buyers do you have?
LexiConn offers an enhanced statistics module for ShopSite Pro stores that can produce reports on a wide variety of data. This system integrates with the Urchin stats package for an unbelievable amount of detail on your customers. Standard reports include number of transactions, products by revenue, products by quantity, and in depth drill-down report for each item as well. Advanced reports and features include:
Set up funnels and conversion goals
Set up A/B split testing
Geo-targeting
Keyword analysis (both organic and paid)
The above categories can tell you how much revenue your site brought in from your Google.com listing, or how much was ordered as a result of your pay per click ad at Yahoo. You will be able to correlate your online advertising campaigns directly with revenue generated in your ShopSite store, which will allow you to easily see which ads are your top performers.
Screenshot of e-commerce reports (click to enlarge):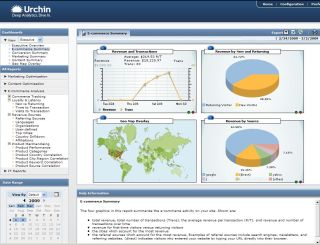 Advantages over Google Analytics include:
1. More accurate as it reads the raw web log file for 100% tracking.
2. Faster page loads as the javascript code is local to your account.
3. No privacy issues for your data and that of your visitors.
4. Data is only viewable by you, and is not shared/mined in any fashion.
The statistics module, along with the standard Urchin reports, is an additional $15 per month charge for clients of LexiConn (If you already have the standard Urchin stats, the cost is an additional $10 per month).