Declined Credit Card Module for ShopSite
Free for hosted clients of LexiConn
This free module, available for any ShopSite Pro version 10 or higher store, allows merchants to easily track and respond to customers who get a declined credit card during checkout. The module records all of the customer's information, as well as their cart contents, making it easy to complete the sale via phone or email when issues arise.
Major features include :
Records every time there is an issue with a credit card payment (declined, CVV2 mismatch, gateway error, etc...).
All customer contact info, description of the error, cart contents, and IP address of the shopper are recorded for each decline.
Can be set to automatically email the store owner when a declined card is submitted or there is an error related to processing a credit card.
Can be set to email the customer after a set period of time when they encounter an error submitting their credit card.
Easily spot and block multiple fraud attempts before too many declined cards are attempted.
Get notified when issues occur between ShopSite and your payment gateway right away, to minimize lost sales.
The module has an easy to use web based interface, allowing the merchant to review declined card details, review emails to be sent, add notes to a declined card user, and set custom statuses to trac k follow-ups to customers with credit card issues.
Click screenshot image to enlarge: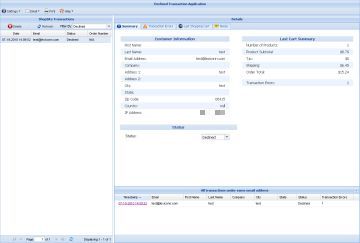 If you are a client of LexiConn, simply send an emai l letting us know you would like this module installed. If you do not host your ShopSite store with LexiConn, check out our seamless ShopSite transfer process to have your ShopSite store and website moved over to LexiConn.