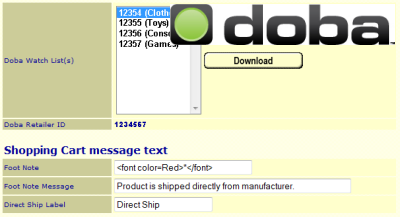 ShopSite has integrated support for Doba drop shipping service. Merchants can sign up with Doba and select from over 1,000,000 products to automatically import into their ShopSite store. Customer orders will automatically be forwarded to Doba for processing and shipping.
Doba works with several suppliers to provide merchants with a wide selection of products to sell. Merchants can use Doba's catalog search tools to select products to sell, then import the products into ShopSite with the push of a button. Because your cost on the products is a low wholesale price, you can make money selling at the MSRP.
When a customer places an order on your store, ShopSite will automatically forward the relevant information to Doba. You simply have to collect payment from the customer, then pay your cost to Doba, and the product will be shipped directly to the customer.
See the Doba Configuration Help for more details about becoming a Doba merchant and configuring ShopSite to work with your Doba account.